Inger and Jeff Latreille
~Friday, December 24, 2021~
Day 558
As we were finishing the clean up from last night's disaster of a kitchen, we were given a friendly visit by my mom's sweet friend and neighbor, Henry. He and his family had just gotten back from Texas, driving straight through from Tucson….quite a trek! My mom had been collecting their delivered packages over a week's time so in exchange, he delivered a delectable bourbon/chocolate/pecan pie which we'll look forward to serving on Christmas day. It turns out Henry and his family are flying to Fairbanks, Alaska for a week-long trip next summer, which will be one of our destinations as well. Would be wonderful to meet up with them in the "Last Frontier".
We heard the gardening crew next door doing their weekly mow and blow which prompted my mom into thinking HER gardening guys might be coming early too with Christmas being on a Saturday. So we sprung into action putting a few Christmas cookie bags together for the guys just in case they showed up today. And to shorten the to-do list for tomorrow, mom and I decided to pull out the china and crystal a day early, adding a few sparkles and accents here and there. The most challenging task was selecting which tablecloth to use.
Before we knew it, it was time to head over to my sister's in-law's home in Fair Oaks. Marcy and Terry were so sweet to include us in their Christmas Eve celebration,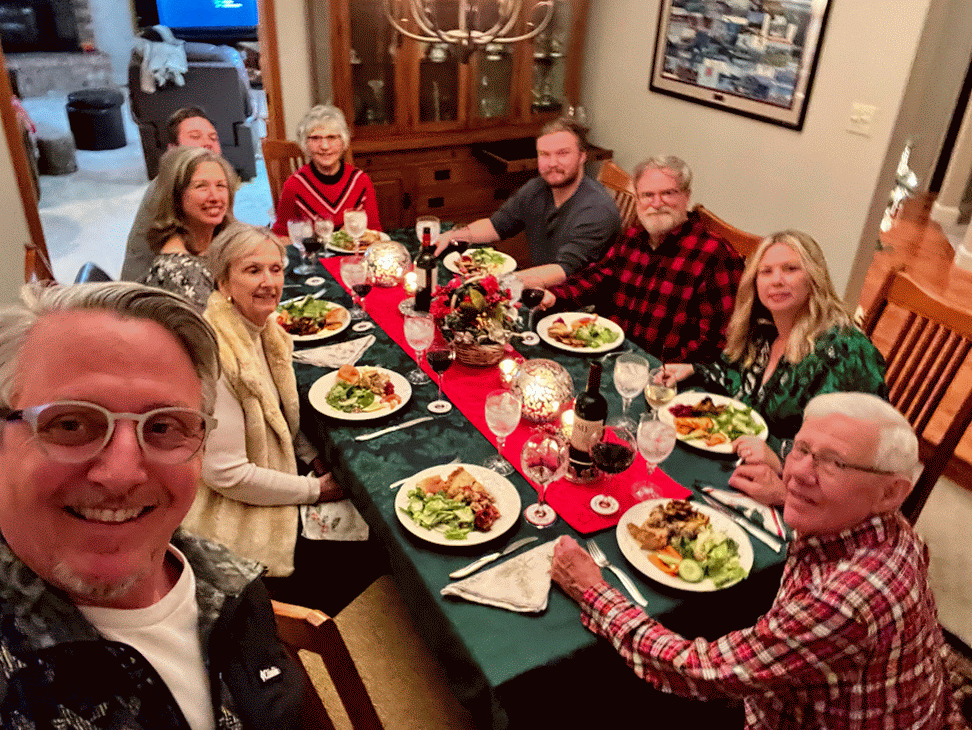 especially with the fact they open gifts and all on Christmas Eve, not Christmas morning. Our son Shane drove up from Napa to share in the special evening.
But no one had quite the trip like Tracy and Tim's son Jarod. Leaving West Linn, OR at 10:00 p.m., the day before, driving all night with icy roads and snow flurries to make it home in time for Christmas. This band of weather couldn't have come at a worse time, so we're wishing all of the Holiday travelers well. Terry did a fabulous job of selecting the wine. And the Christmas Eve dinner of meat pie (a cherished family tradition of Marcy's), smashed potatoes, cranberry sauce and Tracy's Caesar Salad was all delicious, followed by our contribution of Christmas cookies.
And the guys did all the dishes with Terry's lead.
Getting back to my mom's late, there was still work to be done to prepare for the next day's festivities. Mom and Shane helped with the dishes as Jeff made the Egg's Shirley (our breakfast for tomorrow morning) and me, our traditional Beignets and pumpkin pie crust as those needed time to rest overnight and so did we. Good night and Merry Christmas Eve everyone!